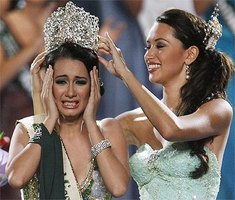 For pageant winners, a year's worth of appearances and wearing the crown can fly by. Sometimes the last duty--giving up the crown--is the hardest. Here's how to make a memorable and graceful exit from the pageant stage.
Things You'll Need
Farewell speech

Thank-you notes
Killer dress/gown

Friends and family
Prepare for the Big Day
About a month away from the pageant date in which you give up your crown, start to make a list of the people and sponsors who were especially helpful and supportive to you during your reign. Purchase some thank-you notes (or as a pageantry bonus, notes with a crown on them), and start working your way down your list. Planning ahead in this way ensures no one is skipped.

Call the pageant director and find out if you have any special duties the day of the pageant. Will you be required to attend any judges' seminars? Do you need to perform a talent? Will you be asked to emcee?
Also ask for further direction on your farewell speech. Will you be asked to record the speech ahead of time? Do you have time for any special presentations, such as a slide show (if you so desire)?
Finally, ask if there are any specific wardrobe requirements, particularly for an opening number costume or theme? This will allow you ample time to purchase the proper attire.

If you are asked to perform a talent, one month out is the best time to start practicing. If you had already prepared one for an earlier competition, don't assume you will be able to wing it through an additional performance. Practice truly makes perfect, and you want to leave audience members with the best impression of you and the effort you put forth throughout the entire year.
You may also want to map out how many outfits/dresses/gowns you will need for the day. Do all your dresses fit properly and are they free of stains and dust? Local dress shops may be willing to let you borrow something new for your farewell (be sure to mention any of these sponsors in the program book or in your speech).

Notify friends and family members early of the pageant date, time and location. Having a support system is important at this emotional time. Let loved ones know in advance so they can clear their schedules and make travel arrangements.
Two Weeks Away
When you are two weeks away from the pageant date, it is time to start working on your all-important farewell speech. While others may prefer to wing it, it is important to leave a lasting impression on the crowd as well as fully thank all the people who supported you. Since you don't want to leave anyone out, it's time to start writing your speech.
While farewell speeches differ from pageant to pageant, the most important message is to convey what wearing the crown meant to you.

If you will be giving any pageant staff members or others gifts during the pageant, it is a good idea to shop and complete these purchases two weeks prior to the pageant. Having these items prepared is helpful if you are short on time closer to the date.

Now is the time to also wrap up the thank-you note writing.

Think about the items you will need for the big day: Don't forget hair clips to pin the next queen's crown on, any tanner, double-sided tape, hairspray, eyelashes, shoes, etc. that you need to pack in a bag in anticipation of the pageant.
The Pageant Day
If you have prepared accordingly, the day of the pageant you should be packing up your speech, thank-you notes, and clothing items to head to the venue. Remember your crown as well as a garment steamer, should one not be provided. Also, you may wish to take a full-length mirror if the venue does not offer one.

Greeting currently competing contestants, offering advice and wishing them good luck is all part of a gracious outgoing queen's job. Be sure to assuage any stage fright they may be experiencing.

Be sure to pass out any thank-you notes you can early on the day of the pageant. It is easier to find the people in person than it is to track them down following the event, and it is always appreciated to receive a hand-delivered note.
Present your speech with the air of gratitude and enjoyment you have experienced throughout the year, be gracious and accept the applause that comes from a job well done.
Tips & Warnings
Be prepared for tears with handkerchiefs or tissues. If you do tear up during your speech, take some deep breaths, then resume.
Photo Credit http://3.bp.blogspot.com/_maRo3z-KVqA/SRx46CFMgVI/AAAAAAAAGCQ/Xj5iP-VOhCA/s1600-h/Karla-Henry-Miss-Earth-2008-Crowning-1.jpg
Promoted By Zergnet