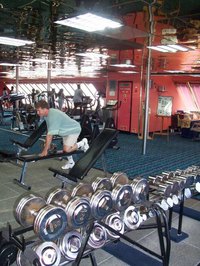 Gymnasiums continue to be a popular means of maintaining a healthy lifestyle, even in the midst of workout DVDs and other quick fixes from home. There is appeal in having a variety of equipment, classes and the ability to easily workout with a friend or family member for accountability. Someone that maintains a healthy lifestyle, has a strong understanding of what it takes to develop great exercise habits and desires to help others achieve their fitness goals, would be a great gym owner.
Things You'll Need
Building
Workout equipment/machines
Choose a convenient, centralized location. You can build your own facility, purchase an old building (such as a warehouse or old grocery store) and convert it into a gym or purchase a gym that someone else is selling.
Design a gym that will appeal to a variety of exercise regimens, including training rooms for classes (such as aerobics and palates), a row of treadmills with televisions available for long use, locker rooms, showers, a pool, courts for basketball and racketball and much more.
Fill your gym with equipment that appeals to a variety of fitness needs. Do market research (possibly a survey) to find out what the most popular equipment is. A likely selection may include treadmills, weights, Bowflex and stationary bicycles. Research the different brands.
Hire employees for janitorial services, the front desk, a clerical staff, the juice bar, personal training and class instruction.
Determine what different membership packages you will offer, what each will include and the charges. You need to decide on class charges, personal trainer costs and all other amenities. You also need to determine how much you will charge nonmembers to use the facility for a day. Consider offering trial memberships at a discounted rate to get more people in the door.
Schedule classes based upon demand and the availability of your instructors. Typically, an aerobics, palates or cycling class meets two to three times per week. Start with only one class and add more as the demand increases.
Check in with personal trainers on occasion to make sure that their clients are making progress. A good personal trainer will have clients that continually show improvement because the trainer changes the routine to match his clients' current strengths and weaknesses. Clients who plateau for several weeks are a sign that your personal trainers aren't doing their job.
Keep your facility clean. As illnesses and diseases continue to increase in number, so do the reservations of individuals who use public facilities. A reputation for cleanliness will add to the success of your gym.
Utilize software to help you run your gym (see the Resource link below). The more resources and assistance you have, the better your chances will be. Look for programs that help you keep member information and dues organized, put together class and trainer schedules and keep track of maintenance and other necessary issues.