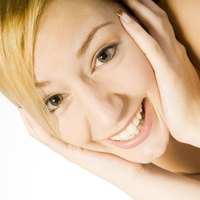 Dentists apply veneers to the front of flawed teeth to transform smiles. Veneers are crafted from porcelain or composite resin—a type of plastic. Porcelain veneers last 10 years or more, resist staining, and mimic the translucency of natural tooth enamel. Sometimes, however, the bonding material used to apply a porcelain veneer degrades and causes the top edge of a tooth to discolor. Or, the bonding cement may undergo a color change during the hardening process. Composite resin veneers typically last 5 to 10 years and don't possess the same translucent or stain-resistant qualities.
Gather Information
Determine the type of veneer: porcelain or composite resin.
Assess the degree and nature of the dental staining.
Discuss potential solutions with the patient and decide upon the appropriate one for the patient's budget, expectations and lifestyle.
Whiten a Porcelain Veneer
Remove the discolored bonding material along the top edge of the tooth.
Tint composite resin to the appropriate color.
Replace the section of stained bonding material with the newly mixed composite resin. Note that the results of this method often are not esthetically pleasing or secure.
Remove and replace the entire veneer to eliminate dental staining and ensure a completely natural appearance.
Whiten a Composite Resin Veneer
Perform a maintenance polishing of the veneer.
Remove the area of stained composite resin if the maintenance polishing does not remove the dental staining.
Tint new composite resin to the ideal shade.
Bond the new resin in place.
Whiten a Veneered Tooth from Behind
Determine the appropriate whitening method for the situation.
Drill out the filler material if a tooth has undergone a root canal.
Apply bleaching solution to the back of the tooth.
Replace the filler material, if applicable. This method is recommended only for porcelain, not composite resin, veneers.