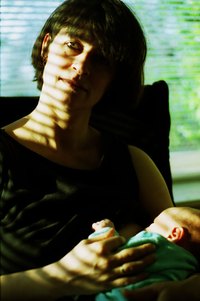 Your breast milk supply constantly fluctuates to accommodate your baby's needs. It isn't always easy to tell if he is getting enough milk or if he is simply nursing to pacify. You need to check your milk supply by attempting to express milk. Lactation depends on stimulation and emptying of the breast. If your breasts are not emptied, your milk will dry up on its own.
Identify How Much Milk You Are Producing
Use a breast pump to express your milk. Attach the pump to your breast. Turn it on and allow to remain for 15-20 minutes. Lack of milk in the bottle may indicate a diminished supply.
Express breast milk manually. Grasp your breast with one hand with your thumb just above your nipple and the remaining fingers just below the nipple. Apply gentle pressure, but do not squeeze until you feel pain. If after several tries you are not able to express milk by hand, this is another indication of a diminished milk supply.
Feel your breast, checking for firmness. It is common for your breast to become softer after several weeks of breastfeeding. Softness alone does not indicate that your milk has dried up. Loss of breast firmness indicates that your milk supply is not as abundant as it was in the first weeks.
If you have not been able to express milk with a pump or by hand and have a noticeable loss of firmness and breast size, there is a strong possibility that your milk has dried.