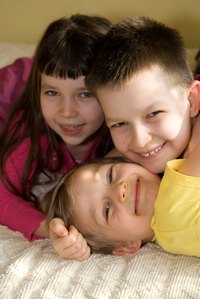 Research in the field of early childhood development continues to reveal the importance of early experiences and education in a child's overall knowledge and well-being. States across the United States are reporting that 20 percent to 49 percent of students don't have the social and emotional skills needed to be successful in school, according to the New Jersey Extension Service. With more and more parents striving to give their children an edge over their peers, you can benefit by learning how to start a nursery school business.
Draft a business plan. Conduct an analysis of the nursery schools and early childhood development programs currently available in your area. Identify geographical areas or populations in your community that are not being served and determine if your nursery school business can meet their needs. Write out the amount of financing you need to secure to open your business as well as your plans for making the nursery school profitable. Outline goals for your business and construct a timeline for achieving them while also discussing your plans for marketing, staffing and operating your nursery school business on a daily basis.
Seek out financing. Check with loan officers at banks, credit unions and other financial institutions in your area to learn if you qualify for a loan for your business based on your credit score and history. Ask about loans designed specifically for small businesses as some banks offer these on their own while others are available through the U.S. Small Business Administration. Find out what you need to do to raise your credit score and be able to qualify for loans if you are unable to do so now.
Register as a school. Complete the application and curriculum requirements to register your nursery school with the appropriate agency in your state. Ensure that you are teaching the core elements of a preschool program that the state requires. Find out if your nursery school business qualifies for funding from the state if it accepts low-income or underserved populations of preschoolers in addition to children whose parents pay privately for their education.
Search for a facility. Determine how many classes you plan to have as well as how many students you plan to enroll as this will help you find a facility to meet your needs. Ensure there are enough classrooms as well as office space to accommodate the needs of students, teachers and staff. Find a facility that offers a fenced, outdoor play area for children to use when weather permits or has enough room for you to create your own outdoor space for your nursery school business.
Purchase equipment and supplies. Obtain children's tables and chairs to place in each classroom. Select age-appropriate toys and activities for children to engage in when at the nursery school. Acquire computers and desks to use in the office area to manage the daily operations, finances and records of the nursery business. Develop a budget and method for ordering disposable supplies and items such as paper, food and cleaning supplies.
Hire employees. Find lead teachers and assistant teachers for each classroom. Look for individuals with education in early childhood development as well as experience when hiring the lead teachers. Select an administrative assistant or bookkeeper to work in the office and assist you in managing the day-to-day operations of the nursery school business.
Advertise the business. Network with child development professionals in your community and list your nursery school with early childhood education referral agencies at the state and local level. Speak about the importance of early childhood education to parent groups, such as Mothers of Preschoolers and Parents as Teachers. Sponsor early childhood development screenings and hang fliers in places frequented by parents with young children in your community.