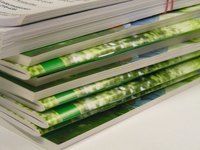 Catalogs are print publications that list merchandise or services. Catalogs present a wide range of items like that offered by department stores, or very specific niche merchandise. Many retail companies compile, print and mail catalogs to make their products accessible to shoppers attracted by the convenience of shopping in print or online. This is called "direct marketing." Catalogs are sometimes handed to store customers. Catalogs are often mailed to customers who have made purchases from a retail store, or who specifically request a catalog. Retailers may operate a retail Web site promoted by a print catalog, or sell only from a print catalog.
Things You'll Need
Deliverable mailing address
Phone or Internet connection
Order catalogs from your favorite stores
Go to the service desk at a store and request that you be added to the mailing list for the print or e-mail catalog. Provide your mailing address to the sales associate.
Locate the merchandise order card or information in a print catalog. Complete the card and return the card by mail. Alternatively, call the phone number listed in the catalog to request that you are added to the mailing list.
Search online for your favorite store using the store name or the type of merchandise you need. Open the Web site that most closely matches your search, locate the "request a catalog" button or link, provide the requested information and press "submit."
Order catalogs from stores that are new to you
Search the Internet for stores that sell the type of merchandise that you are interested in, for example, "shoes," "furniture" or "tools."
Select the retailers that offer the products you would like to review. Find the "request a catalog" button on the Web site. Complete your mailing information and submit.
Expect your catalog within four to eight weeks.