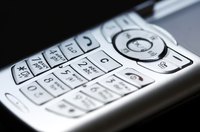 Nowadays, major cellular service providers typically offer nationwide wireless services. Each provider uses a network of cell towers. Some networks do not actually offer service on a nationwide basis. A nationwide cell service often has dead zones or entire areas without calling service. Consumers interested in purchasing a calling plan should use available tools to compare nationwide cell coverage and calling-plan features. They can then choose a plan with the features they want and reliable service in their area.
Things You'll Need
Determine the geographic areas where you will frequently use your cell phone. You need to know these areas to check for availability when you use the coverage tools. Companies that advertise nationwide services sometimes mean that the service is nationwide only within the company's network. A wireless provider may not even offer service in your area.
Find the coverage map for cell providers. Companies usually provide a coverage map in their wireless stores or on the official website. Look at the map to see the cell coverage of the provider. For example, you can see the AT&T coverage map by clicking on "Coverage Viewer" from the wireless home page. Avoid companies that do not offer service in your required areas.
Use the DeadCellZones coverage maps to get information on possible dead zones. A dead zone can occur because of various obstructions or radio interference. Choose a wireless company at the top and enter your zip code. You can use the resulting map to see if there are any dead zones in your area or places you call. Click on the dead-zone symbols to see what users posted about the dead zone.
Ask cell companies about a trial period. According to the Federal Communications Commission, some companies will let you try their service on a trial basis. Test the quality and cell coverage during the trial period. You may still have to pay activation charges or calls you made during the trial period.
Compare wireless companies with the TopTenReviews comparison and review service. Check out the features you need based on your personal situation. Companies usually give a certain number of minutes per month at a fixed price for nationwide cell service. They may also offer free calls at night or on the weekends. However, nighttime hours can vary based on the provider. Choose a company that has the features you need at the price you are willing to pay. Call the companies individually to check on special deals or possible price changes.