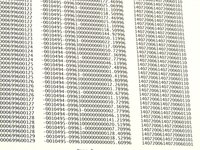 Many small and large companies may accumulate large amounts of information that can include contacts, financial information, clients, inventory and other details. After a while, this information can be overwhelming for the person needing to access it. A database consultant is hired to either create and/or manage the database and organize the information in such a way that personnel will be able to access specific pieces of information quickly and easily.
Establish your business legally. In order to legally operate a business in the state and country your business must be structured so taxes are paid to the proper department. Speak with your attorney or certified public accountant to file articles of incorporation for you. You can also incorporate yourself or form an LLC by going to your Secretary of State's website.
Determine your current skills for database consulting and any additional training or certifications that may be required to be successful. If you choose to do basic database consulting using database software, then further training may not be necessary. However, if you are interested in getting into database programming where you create databases from the ground up you may need to consider training yourself on software like mySQL and other databases like Oracle. (See resources).
Purchase hardware and software for your database business. There is a chance that you may not be working directly in the office of your client. Therefore, you need a computer system that can handle large amounts of memory and software that can efficiently create databases for you. Your computer equipment costs may vary so check with your local office supply store and also online computer supply stores like Dell to price equipment. An example of a database software will be Microsoft Access.
Locate clients that you can either organize their databases to create positive references for your larger clients. Visit churches and other small business owners to determine if they need assistance with having a database created. Charge little to no money and in return they can offer you a written or verbal referral to help you gain larger business.
Create a website and other advertising materials to promote your business. Even if you are a small company or working by yourself you can appear bigger by having a professional website and professional brochures that depict the quality you will provide to your customers. If you are unaware of how to design a website hire a freelance graphic designer and or freelance web designer by going to sites like "Getafreelancer.com" or "Guru.com."
Advertise your business. Contact businesses directly, consult with the Chamber of Commerce for new businesses that have started, and advertise in various business magazines and publications like the Wall Street Journal and other local newspapers.