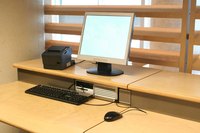 Most offices are inundated by the amount of paper records that have to be filed, faxed and copied every day. A document management system is an option that is available to solve this problem. This system uses computer software to store, track and distribute images of paper documents and electronic documents. Creating this system does take some time but the resulting increase in productivity and money that will be saved in the long run far outweigh the initial inconvenience.
Things You'll Need
Server
Document management software
Design your document management system by deciding which documents you will archive, what documents are a priority, and how you will access the documents.
Make a budget. Base your budget on the number of people working in your office, the amount of documents you have to scan and the number of hours of manpower you have to dedicate towards creating a document management system. Leave room in your budget to also include the cost of the document management software.
Organize all of your paper files. Separate your paper files into sections that are easily identified by you and your staff. Think about how you would like your files to be accessed from the computer and organize them accordingly.
Scan your files into your computer system. This is the most time consuming task and depending on the amount of paper documents you have it can end up taking a long time to complete. Buy a high performance scanner if you have a lot of documents to scan and have the same employees do the scanning to avoid any mix-ups or confusion. Most scanners will convert your documents into a PDF file which is the de facto standard for electronic document distribution.
Purchase and implement document management software. Buy the document management software that best suits your needs. Find the software by doing a Google search for "document management software" to learn about the different options available. You can either have the software installed directly onto your server or use a web based solution. Alfresco.com and eQuorum.com are examples of companies that offer document management software. Most of the companies also offer training and support if and when you need it. Upload all of your documents into the software for easy access and distribution for your team.
Place all documents in the right category. This is essential for the system to run efficiently and accurately. Train all of your employees on how to use the new system for storing, archiving and retrieving documents.
Back up all of your files regularly. Use a backup service that stores your documents in a safe, secure, remote location. Make sure that they offer automatic backup of all of your files on a regular basis. This will ensure that if anything should happen, the data you need to keep running your business is secure. Some companies that offer backup services are: mozy.com, carbonite.com and idrive.com.