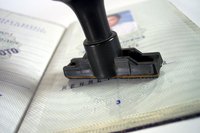 Mexico does not require a visa if your visit is for less than 72 hours or if your traveling close to the U.S. border. But, if you intend to stay more than six months you will need a long term visa. The FM3 is a long term visa that grants temporary residency status specific to the purposes of your visit. For example it can be granted to students, artists, journalists or religious ministers. FM3 visas are valid for one year but can be renewed for up to five years.
Download the FM3 visa application from the Mexican Consulate's website.
Assemble all the necessary materials. Everyone will need a valid U.S. passport, two front view passport photos, two side view passport photos, "proof of economic solvency," and money to pay the fees, according to the Mexican Consulate's office. Depending on the purpose of your travels you will need to provide additional documents. Contact the Embassy of Mexico in Washington at (202) 736-1600 for specific details.
Mexperience, an expert on travel to Mexico, says the "proof of economic solvency" can vary from person to person. The Consulate of Mexico in Los Angeles says it's credit card statements that show a minimum limit of $1,000 or bank statements "with a minimum monthly balance."
Find the consulate or embassy closest to you via the Mexican Ministry of Foreign Affairs "Directrio Consulados."
Submit the FM3 visa application. It must be done in person at the nearest embassy or consulate and most in the U.S. do not make appointments.