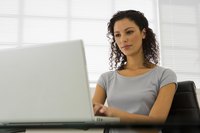 Scentsy is an Idaho-based candle company that uses a network marketing business model. Scentsy sells wickless candles, ceramic warmers and other home fragrance products through independent consultants. In-home parties are held where people can try Scentsy products and place orders through the consultants. The party hostess is rewarded with free and discounted products based on total sales at the party. The consultant then submits the party orders and the hostess rewards through an online back office site. Orders are either shipped to the consultant or hostess, who then delivers the products to the customers.
Log-in to your Scentsy Workstation. Click the "Order" tab. Click "Enter a Home Party Order" in the Party Order section.
Fill in the information in the party hostess entry section, or select previously entered information from the Auto Fill Hostess feature. Then, click the "Set your default shipping" button.
Fill in the shipping address information, or click the "Ship to Hostess" or "Ship to Consultant" options.
Click the "Enter your party guests" button. Fill in the guests' names in the "Add a Guest" box.
Click "Add items" by a guest's name to add the items that particular guest ordered. Type in the product code or the name of the product the guest ordered. Click the correct product description that appears in the list. Click "Add Product." Click the "Save and return to Guest List" button. Repeat for each guest and the hostess. Click the "Finish the hostess order" button once all guest orders have been filled.
Enter the hostess rewards that the hostess chose during the party. Toggle between the "Half-Price" and "Hostess Credit" options. Click the "Add Hostess Reward" button once the correct product is chosen. Click "Order Review" when finished.
Review the order to make sure everything was entered correctly. If paying by credit card, enter this information in the Enter Payment Info section, then click the "Add Payment" button. Click the "Complete this Order" button when finished.