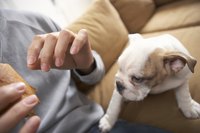 Boxers are often described as the perfect dog—they are loyal, friendly, playful, a little goofy and love to be a part of the family. Fortunately, their willingness to learn and obey typically makes training quite simple. This is also true for crate training. Crate training is arguably one of the best ways in which to potty train a dog, as it works with the ideal that dogs do not like to lie in their own waste. Therefore, when placed in the crate, the boxer will typically wait until it is outside to eliminate. However, purchasing the proper crate size and practicing a few crucial techniques are essential when crate training a boxer puppy.
Things You'll Need
Appropriate-sized crate
Treats
Teach your boxer puppy that the crate is an enjoyable place to spend time. Throw a few treats or toys inside the crate to entice the puppy to enter, suggests the boxer information website BoxerWorld.com. When the puppy enters, praise it by giving it another treat and start to say a word that associates the boxer puppy with the action, such as "crate" or "den." Repeat this process a few times every day before you begin the training.
Place your boxer puppy in the crate for a few minutes during the day to get it used to being inside. Try doing this when the boxer is a little drowsy, so that it might take a little nap in the crate. The boxer will likely protest by crying or whining—ignore this. Do not let the puppy out if it cries, as you will teach it that that sort of behavior is rewarded by being let out of the crate. Only let it out when it is quiet.
Leave the boxer puppy in the crate when you are away or not able to provide supervision, such as when you are at work or sleeping. Placing your boxer puppy in the crate during these times will not only teach it to become house broken, but will also prevent it from chewing or displaying other inappropriate behaviors. Boxer puppies are prone to developing separation anxiety when feeling bored and alone, states the training website Dog-Obedience-Training-Review.com. Placing the boxer puppy in the crate when you are away will help prevent destructive behavior and ensure its safety.
Establish a routine with your boxer puppy by taking it outside at the same times every day. Puppies generally need to relieve themselves before and after eating, sleeping and playing, with a few other times in between. Instilling a routine will teach your boxer puppy how long it has to "hold it" before it can go potty.
Take your boxer puppy out of the same door to the same area each time it goes to the bathroom. Reward its good behavior with a treat and play for a few minutes before coming back inside.