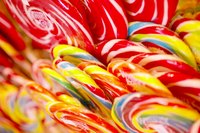 Drawing the attention of potential buyers is the first step in peddling sugary wares. If you have candy to sell, create an attractive and fun display that will be as pleasing to the eye as your sweet treats are to the taste buds. In doing so, you can catch first-time buyers, enticing them to purchase your offerings and likely making your candy sales attempts substantially more profitable.
Create a heading with hand or pre-cut letters. Purchase or create letters in a bold hue using bright colors. If you are creating a printed poster to display, select a large point size and easy-to-read sanserif font for this heading. Keep the heading short and get to the point. Try, for example, "Sweet Treats" to top a display of assorted candies.
Use bold, attention-getting colors. When selecting the colors for your display, seek first to reflect colors found in your candies. If you are selling chocolate, for instance, feature brown as one of your dominant hues. Pick colors that contrast, such as yellow and black, to increase the attention-getting nature of the display.
Integrate photos into your display. Show potential buyers just how tasty the treats you sell actually are by including photos of the product or of individuals indulging and taking luxurious bites of your sweet offerings. Instead of littering the display with photos, select only a few and make them large to attract viewers.
Feature an assortment of candies, offering buyers' choice. Though you can make a display featuring only one candy, doing so often isn't as effective as offering an assortment of options. By offering more than one treat, you increase the likelihood that one of your offerings strikes the fancy of potential buyers.
Arrange candies in an easily-accessible way. Place candies near the front of your display, keeping them low to the ground to ensure that buyers of all size can reach them. In doing so, you make it easy for buyers to grab and go.