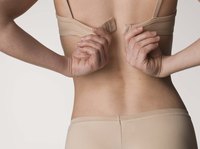 Women's bodies change as they get older. The sizes they wore in high school or early adulthood might no longer fit because of childbirth, weight gain or loss and aging. One area that might suffer from lack of regular attention is proper bra sizing. Many women believe they stay the same size as they get older. Women who don't buy bras in the correct size make themselves suffer needlessly because they stuff themselves into bras that are too small. They make themselves look unattractive because they literally are spilling out of their bras.
Visit a Nordstrom's store if you have one in or near your community. You can find a bra fitting specialist in the Intimate Apparel section of the store.
Find the bra fitting specialist, and ask her to fit you for the size of bra you should be wearing. She will go with you into a dressing room and take your measurements. You can be measured over your clothing, but make sure it isn't bulky.
The bra fitting specialist measures you above your bust, under your armpits. She also measures you at the fullest part of your breasts and just under your breasts.
You can find a bra fitting specialist at Macy's and Dillard's stores, too Each of these department stores employs bra fitting specialists to help you find your correct bra size.