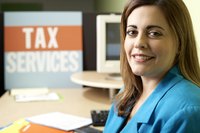 Pricing a service such as tax preparation is both a science and an art. According to marketing expert Kim Gordon, writing in Entrepreneur Magazine, "every business owner must arrive at her own pricing structure ... your rates will depend on three things: your actual costs plus a reasonable profit margin, the pricing the market will bear and the ways you'll add value to your service offering." This is an excellent skeleton of the process of determining how to price tax preparation work.
Instructions
Calculate your total fixed costs and your marginal costs. Fixed costs are those you will incur regardless of whether you have any customers. Marginal costs are those that increase in direct relation to the number of customers you have. Determine how much each additional customer costs.
Research the fees charged by competitors in your geographic area, as well as the fees charged by any online tax preparation options available to your target customers. This will give you a idea both of what the market is able to bear, as well as the competitiveness of your eventual price.
Determine which customer segment you want your pricing to attract. Example: You can compete on price by choosing to target bargain-hunting customers seeking the lowest price, or you can choose to charge an average price and market aggressively to customers seeking personal service, or you can choose to charge a premium price and offer value-added services.
Set a pricing fee that makes your tax preparation service profitable and targets the customer segment of your choice. Charge different fees based on the complexity of different types of returns to ensure that your fees are commensurate with the complexity of different tax returns.