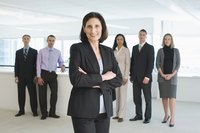 Businesses and nonprofit organizations often adopt a conflict-of-interest policy to forestall corrupt practices. In order to avoid conflicts of interest, management should constantly be aware of how different relationships can adversely affect a business. A strong policy can help protect a business entity, but it must be practiced daily and management must seek to defuse potential conflicts before acts of corruption take place.
Identifying Conflicts
Set up a self-monitoring system to prevent or circumvent conflicts of interest, particularly in the way that your business entity is operated. This should involve making changes to the policy as needed and discussing the policy with new staff or board.
Outline the specific needs of your business or organization before developing a conflict-of-interest statement. For instance, if your business provides consulting, you may identify a conflict of interest if a board member has provided services to that client or if a staff member worked at that location in previous year. Making a list of potential conflicts of interest will help guide your policy.
Familiarize yourself with potential conflicts of interest. For instance, a nonprofit board member may have affiliations with other organizations in the community, such as on a professional or personal basis. Consider each board member and make a list of potential conflicts of interest.
Writing a Conflict-of-Interest Policy
Write the name of your business at the top of the document and then title the document "Conflict-of-Interest Policy."
Create an opening statement for the conflict-of-interest policy. This should state that the board should act at all times in the best interests of the organization. A conflict-of-interest policy normally has three elements, including disclosure, board members and staff members.
State the purpose of the policy, which is to help inform the board and staff members as to what constitutes a conflict of interest, assist the board and staff in identifying and disclosing potential or actual conflicts of interest, and help ensure future conflicts of interest as needed.
State that all board members and staff should make their personal connections known. An update should be provided annually or more regularly as determined by the organization.
Create a statement about board members that should they have a potential or actual conflict of interest, they should abstain from voting or board discussion regarding transactions or a decision-making act.
Develop a statement about staff members that states that if a potential or actual conflict of interest exists, a staff member should abstain from decision-making practices that affect transactions.