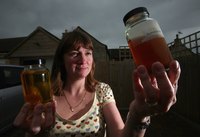 While palm oil represents only one percent of the world's biodiesel sources, it makes an important contribution as cheap biomass that, when grown correctly, can offer a sustainable solution to the world's energy crisis. Yielding biodiesel from palm oil is similar to the process of making fuel out of most vegetable oils. Palm oil hardens at a higher temperature than other oils, with a high crystallization point of 54 degrees Fahrenheit. Solve this problem by mixing palm oil with other diesel fuels.
Things You'll Need
Protective gloves
Vapor mask
Safety goggles
Protective clothing
Diesel generator
Fuel filter
Large storage containers
150 liters methanol
22 kg lye or other catalyst
1,000 liters vegetable oil
Measure the ingredients to the same percentages in a smaller proportion to make a small test batch before moving on to larger batches. Use spare bottles, funnels, tubing and a metal pot for your test run, or make your own mini biodiesel generator to ensure that you master the process.
When you are ready for larger production, you can purchase a processor at a local biodiesel retailer or online, or make your own at home. For 1,000 liters of biodiesel use 264 gallons (1,000 liters) of palm oil, 40 gallons (150 liters) of methanol and 48.5 lb (22 kg) of catalyst.
Mix the methanol and the catalyst. Carefully pour each ingredient through a funnel into your container or biodiesel generator. Do this step quickly to prevent the methanol from absorbing water from the atmosphere. Use caution when handling these chemicals. Close the lid tightly and allow the mixture to mix completely. This may take 15 minutes or longer depending on the size of your batch and the mixing method. Biodiesel generators will agitate the mixture. If you are mixing in a bottle, swirl the mixture around gently to speed up the mixing time. This mixing process creates heat, so wear your protective clothing.
Blend the palm oil into the mixture of methanol and catalyst to lower the oil's viscosity. Making the oil thinner helps it flow through the fuel system more freely and lowers the palm oil's high crystallization point. Mix for at least one hour and let settle for at least 16 hours. During this time glycerin, biodiesel's byproduct, will settle to the bottom.
Discard the glycerin and "wash" the new mixture by gently spraying water into the fuel. Mix the water and let it settle completely. The water and all the impurities will float to the top.
Properly dispose of the waste water and glycerin or use further processing techniques to filter out useful products such as soap.
Blend palm oil with any other diesel fuel that has a lower crystallization point like corn, rapeseed or regular diesel fuel to prevent the fuel from hardening in temperatures as high as 54 degrees.