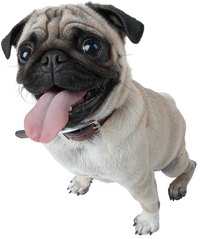 Pug puppies need three meals a day, while adult pugs require only one daily meal. The rule of thumb for a puppy is one ounce of food for each pound of its weight at each meal; for an adult the ratio is one-half ounce of food per pound of weight. Some dog breeders and dog owners have turned away from commercial dog foods because they believe too many of the commercial brands contain fillers, ingredients that provide no nutrients. Instead, these breeders and owners recommend that you cook your pug's meals.
Things You'll Need
Eggs
Low-fat milk
Lean meat
Fresh vegetables
Brown rice
Whisk
Skillet or saute pan
Wire strainer
Cheesecloth
High-quality commercial dog food
Scrambled Eggs and Green Beans
Dice and steam green beans until they are soft but not mushy. Whisk together two eggs with a dash of low-fat milk. The Pugspot website recommends, "If you're using two eggs, remove one yolk." Cut into tiny bite-sized pieces, suitable for a pug. Let cool before serving.
Pour into a hot skillet and scramble the eggs. When they are cooked, add the cooked green beans.
Cut the scrambled eggs and green beans into tiny bite-sized pieces, suitable for a pug. Let cool before serving.
Stewed Chicken with Brown Rice
Stew the dark meat of a chicken (legs and thighs) in water until the meat falls off the bone.
Line a wire kitchen strainer with cheesecloth and pour the chicken broth through it. Add enough water to the broth to cook brown rice.
While the rice cooks, mince the chicken. Let the rice cool, then toss it with the chicken and serve to your pug.
Ground Turkey with Vegetables
Brown ground turkey in a little vegetable oil.
Before the meat is cooked through, add chopped carrots, green beans or asparagus. Cook the turkey and vegetables until done.
Cut the turkey and vegetables into pug-size pieces, let cool, then serve.