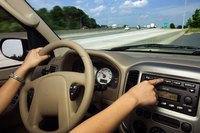 In an age of social networking, text messaging and online advertising, you may think radio is obsolete. The reality is, as long as there are cars on the highway, radio will command a captive audience. Because each radio station attracts a specific type of listener, radio is a medium that knows how to deliver the "key demographics" advertisers are looking for. Creating an effective radio ad capitalizes on the age and tastes of listeners most likely to tune in for a specific station's format. A well-executed radio ad campaign will know how to connect with listeners.
Know your audience. Radio is not a "one-size-fits-all" medium. The ad you create for an urban hip-hop station will not be the same ad for AM talk radio.
Establish a budget. Many radio stations will produce your ad free when you purchase time on their station. If you have money for advertising production costs, advertising agencies that specialize in radio will hire high-quality voice talent and take the time to include custom music and sound effects. Enhanced production values can increase the impact of your advertisement. As with most products, you get what you pay for.
Determine the ad length. Radio ad lengths are typically 15, 30 or 60 seconds. The longer the ad, the more you pay. Each length will require a script-writing strategy that leverages the time appropriately. For example, a 15-second ad may be restricted to communicating what and when, whereas a 60-second ad allows time for where, when, how, why and what will happen if you don't buy today.
Choose a good copywriter to write a solid script. An experienced copywriter will know how to refine your sales pitch to the most basic points a listener can be expected to remember. The script should focus on one or two themes and repeat the message several times. Begin with a compelling statement, place a deadline on sales events and end with your slogan. Repeat the business name or product several times to build name recognition. Don't pack in too much contact information. Avoid lengthy directions on how to get to your business. Use simple, easy-to-remember phone numbers or web addresses.
Find a hook. In music, the "hook" refers to an element in the melody that lends itself to being remembered. The same dynamic applies to radio advertising. Make the ad memorable. For example, hire vocal talent to create a memorable character or use musicians to create a "jingle" that incorporates your slogan into a song.
Spend money on air time. The best radio ad is useless if no one hears it. Reserve most of your ad budget to broadcast the ads as many times as possible. Repetition is the key to an effective ad campaign and long-term name recognition for your business.