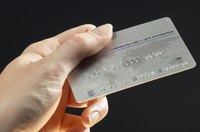 Credit cards are a great convenience to consumers and can also be instrumental in helping business owners increase their sales and generate higher profits. Many businesses issue "private label" credit cards that can be used only at the locations where they provide goods and/or services. In some cases, the business owner extends credit directly to her customers, but more often these days, the owner will contract with an outside financial organization to issue the "private label" card.
Things You'll Need
Credit applications
Internal billing system or external service bureau
Credit policy
Marketing materials
Plastic cards
Embossing equipment
Decide whether to issue your cards internally or use an outside "private label" issuer. Although you can earn interest revenue by issuing the cards yourself, there are many advantages to letting an outside firm handle this process. You'll avoid the headaches that come with evaluating credit applications, making credit decisions, managing receivables and assuming credit risk. Your outside vendor will perform these functions on your behalf.
Develop a marketing strategy for your new credit card. Consider whether to include incentives for using your card, such as rewards, rebates or discounts. Do some research on your customer base to determine which of these would give them greater motivation to use the card. Develop a name for your card and an attractive card design.
Develop marketing materials, such as brochures, signage and credit applications. In addition, you'll need a credit policy that specifies your criteria for granting credit. If you intend to handle the applications yourself, arrange for access to a credit bureau to obtain credit reports.
Introduce your new credit card with a direct mail campaign and/or and in-house promotion. Offer an incentive to apply for the card, such as a discount coupon for each new approved account. Tell your personnel to talk about the new card with your customers. Make sure that applications for your card are prominently displayed in your stores, especially at cash registers and checkout locations.
Issue your new cards as quickly as possible after receiving credit applications. In the event that an application is declined, send a polite letter explaining the reason. Invite the declined customer to apply again at a later date. Review the approval rate for your applications after a few weeks have passed to ensure that it is acceptable. A low approval rate will not accomplish your objectives, and you'll risk upsetting many valuable customers.