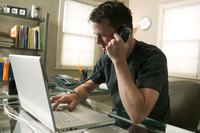 Starting an online insurance-quote service is just like starting any insurance agency, except that there are the added considerations of how to qualify to sell insurance under the various state insurance laws. Some insurance websites offer quotes but act as referral services for insurance agents located near the customer; other services operate their own agencies in different states.
Study the websites of online insurance vendors. Request quotes and take notes of what you like and dislike. Note which user interface is most convenient and compare details such as user privacy statements, contact information, customer service and consumer education. You'll learn a lot about how best to operate your business by studying your competition.
Research online marketing strategies and methods. Your success will depend on how you stand out from the crowd of competitors and how well your customer service operates.
Contact your state insurance commissioner or department of insurance to find out how to qualify as an insurance agency. You'll need to pass different examinations that license you to sell different types of insurance.
Contact insurance companies that provide the type of insurance you want to sell. Large national insurance companies will be able to assist you in qualifying to sell insurance online or assisting their agents in marketing online by providing quote and referral services.
Include a detailed description in your business plan of how your company will comply with insurance regulations, the market for the type of insurance you plan to quote, how you'll market to these target customers, revenue sources (including advertising and sponsorships), how you'll launch and build your company online, and a detailed projection of revenues, expenses and profits.
Solicit any funding you might need by applying for bank loans or seeking investments or loans from family, friends or local business investors. Use your business plan to present your idea.
Launch your business in the real world as well as online. Networking locally will serve to drive customers to your website.