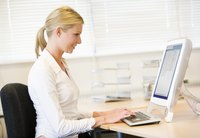 Quicken personal financial software provides options for tracking numerous types of investments, such as a 401k accounts, stocks and bonds. Quicken also allows you to choose the level of detail you want to include when tracking your investments: You can check investment balances for a quick picture of net worth, or you can track day-to-day transactions.
Things You'll Need
Investment statement (current)
Display the Investment Accounts set-up window. Click "Investing" from the Quicken main menu, select "Investing Accounts," then click "Add Account."
Choose the account type. Quicken provides four types of investment accounts: Standard Brokerage, IRA or Keogh Plan, 401(k) or 403(b), and 529 plans. Standard Brokerage accounts are for stocks, bonds, mutual funds or options. IRA or Keogh accounts are for traditional individual retirement accounts (IRAs) as well as Roth IRAs, Simplified Employee Pension (SEP) plans and Keogh plans 401(k) or 403(b) accounts are for employer-sponsored retirement plans. Finally, 529 accounts are for investments related to saving for college.
Enter your bank or financial institution information. If you are setting up a Brokerage or IRA account, Quicken will give you the option to connect to your financial institution and automatically download transactions. If you choose to take advantage of this option, Quicken will prompt you for information about your financial institution and give you instructions for connecting and downloading transactions.
Answer account specific information. Depending on the type of account you are setting up, Quicken will ask you to provide information such as a descriptive name for the account, the name of your employer, and current financial information such the number of shares, dollar values and ticker symbols. Click "Done" to add the investment account to your Account List and close the "Add Account" window.
Activate the Watch List. If you entered ticker symbols for securities and want Quicken to monitor them for you, add them to your Securities Watch list. To add securities, click "Tools" on the Quicken main menu, and then click "Security List." Type in the ticker symbol for the security you want to monitor, click "Next" and Quicken will download current information regarding the security along with a graph depicting performance according to dates you can customize. Click "Done" to close the information window.