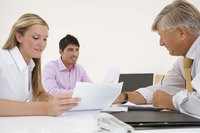 An IRA is defined by the IRS as an "individual retirement arrangement." As an individual account, it can not be titled such that it is owed by a trust. However, you are allowed to name a trust as the beneficiary of the IRA, thus controlling how the assets are used after your death. "Inheritor's Trust," "QTIP Trust" and "IRA Trust" are name of trusts designed to help preserve the assets in an IRA over a longer period of time, defying the original intention of an IRA being an income source for one generation.
Hire a family law attorney to establish your trust specifically for your IRA. This is in addition to the estate trust dealing with all other assets if you plan on having the IRA accumulate value over time and stretch the distributions.
Name the youngest possible beneficiaries to the IRA's trust. Most estate trusts will name a spouse or child as the beneficiary. If you want the required minimum distributions (RMD) to be extended over the longest period, you will want the trust to name the youngest beneficiaries, lessening the amount of taxes and preserving the asset longer. RMDs are determined by life expectancy, so your grandchild, age 5, will have a much longer life expectancy than your spouse, age 65.
Assign the IRA to the trust by naming the trust as the sole beneficiary of the IRA. Upon your death, all distributions are paid into the trust and dispersed according to the trust document.