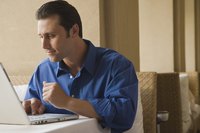 When creating a new business in Quickbooks, the Easy Step Interview gives you 30 plus options for type of business you are operating. This choice creates a default chart of accounts with common accounts used in restaurant businesses. A restaurant's chart of accounts will include food and beverage sales and the cost of goods sold for food and beverages. Open your Quickbooks program and use this article as a step by step guide as you are entering your information; this will help you accomplish this task.
Things You'll Need
Quickbooks software
Touchscreen Monitor
Quickbooks Cash Register Software
Computer terminal for servers' use
2 Receipt Printers one for kitchen one for servers' use
Quickbooks for Restaurants
Set up Quickbooks accounts for office computer. This will require adding the unique accounts and items for your particular restaurant. Go to lists menu and hit CTRL-N to create new item (small pizza, hamburger, etc.).
Link each item to both a specific expense account and a specific income account. The expense account for items you sell would be the Cost of Goods Sold account, the income account would be the Sales account. Enter each item as a non-inventory part if for example you use multiple items to build one product. Keeping track of each half ounce portion of lettuce or pepperoni is almost impossible.
Check the box that says 'This item is used in assemblies'. Doing so will allow you to enter both the cost account and the expense account so that you can track the profits on your sales. After entering the item name, check the 'subitem of' box. For example, pepperoni would be a sub-item of Pizza and deli meats a sub-item of Sandwiches.
Add the Sales Tax information. You must make sure that each of the items you are selling is coded as taxable. (located under the price box) Each state and each county within each state has different sales tax percentages. Go to the Item menu found under the Lists section. Click sales tax item button and add the sales tax for your state, and the state agency you pay sales tax to. Return to the Item menu and create a new sales tax for your county with the same information for the tax agency. Return yet again to the Item menu and click on Sales Tax Group. Add the two previous sales tax items to this group and make the group the default tax item for each transaction. This allows you to combine the state and county taxes into one group, and avoid having two different tax amounts on your customer's receipts.
Add employee information and regular customer information. Add each server, cook, assistant, etc into the main system. You will be able to set up their hourly wages or salary, and tips. Adding regular customers using the Quickbooks together with the cash register application below will allow you to recall previous orders (ideal for a pizza restaurant) and keep important notes on their likes and dislikes as well as address and phone information for deliveries.
Set up the Quickbooks Cash Register Software on the second computer. Link the two computers on a network and import the Quickbooks file you just created into the Cash Register software. Click on the help button and enter 'Networking Quickbooks' and follow the prompts. While it is optional to use this software, you do have the option of allowing each server to enter your office and directly enter sales into the Quickbooks. This will unfortunately cost you the time, and run the risk of a server clicking the wrong key and not being able to complete a transaction or seeing sensitive financial information you don't want them to see. The second computer and touchscreen monitor in the server area will allow you to work in peace in your office as the restaurant bustles with activity. The Quickbooks cash register package also includes a credit card swipe machine for quick payment options for your customers.