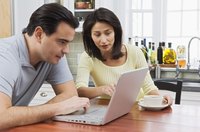 Before the Internet was popularized, the only ways to get hotel rooms were to call the hotel's office, book with a travel agent or take your chances on the road. Today, however, there are online sites where you can name the price you're willing to pay for certain hotel rooms. Because a hotel often has rooms that are unlikely to be booked, they would rather get a small amount of money than no money at all. If you know where you're going and how to bid online, you can save yourself a significant amount of money on your trip.
Choose your destination and research which neighborhood of the town or city you want to stay in. Decide what level of luxury you'd like as well (as in three star, four star or five star).
Visit a discount hotel site such as priceline.com. Enter your destination in the site's home page, the dates you'll be staying and the quality of the room you're looking for (according to the site's star rating).
Choose the "Name Your Own Price" tab at the top of the website's window. Select the areas of the cit you want to stay in and then type your price into the "Name Your Own Price" box near the bottom of the page. Click the "Next" button when you're finished.
Review your bid and type in your initials at the bottom of the page if you agree to the terms. Click "Next" to finalize your purchase.
Fill out the appropriate information and wait to see if your bid gets accepted. Choose a new area or raise your offer if your bid gets rejected.