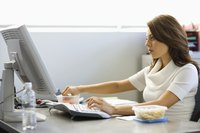 Minitab is a statistical software package widely used in universities and businesses. In addition to helping businesses create complex statistical reports, it can help students prepare for the AP, or Advanced Placement, statistics exam. From a user's point of view, the interface is similar to Microsoft Excel. Data is entered into worksheets and manipulated using options on a toolbar. One such option is the histogram, a type of bar chart in which the height of a bar represents how many items appear in a particular category.
Select "Graph" and then "Histogram" in the Minitab program.
In the "Graph Variables" box, write the name of the column containing the data. For example, if your data is in column b6, write "b6" in the box.
Click on the "Options" tab.
Under "Choose Type of Histogram," click the radio button for the type of histogram you want to draw (for example, frequency or density).
Click on a radio button for either "MidPoint" or "Cutpoint." A cutpoint divides your graph into two equal-sized halves according to total area. A midpoint divides the graph into half along the x-axis and doesn't take area or data size into account.
Choose the appropriate radio button for "Definition of Intervals." If you want the system to choose for you, click on "Automatic."