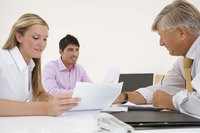 There are two ways to invest in a company: stocks and bonds. Bonds represent a debt to the company, and the rate of interest the company pays bondholders for their money is tied to the credit risk of the company. That is, if the company is doing poorly you will need a higher rate of interest in order to compensate you for your risk. Likewise, if the company is stable, the interest rate will be lower. This same relationship holds for lenders. If loans are earning less money than the current market rate, the lender is losing "potential" money. The longer the duration of the bonds, the greater the risk. This risk is referred to as maturity risk.
Determine the duration of the corporate bond you would like to find the maturity risk premium for. Let's say you own a 10-year corporate bond.
Go to the US. Treasury Daily Yield Curve website. This web page provides pricing for all bonds (both short and long duration) in an easy-to-read format. Compare the 1-year Treasury bill to the 10-year Treasury bond. (The term "bill" is used to refer to bonds of short duration--less than 1 year--and "bond" is used to refer to those of longer duration.
Subtract the rate of the 1-year Treasury bill (0.45 as of 1/4/10) from the 10-year bond (3.85 percent as of 1/4/10). The answer is 3.85 - 0.45 = 3.40 percent. The represents the minimum risk premium for purchasing longer duration bonds. We use treasuries for this calculation because they are considered to be risk free. Treasury bonds are considered to be the most stable bond which all others (including corporate bonds) are set to.