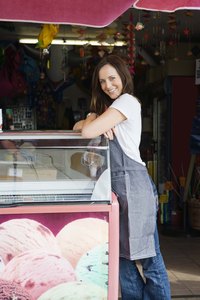 Some of the best hot dogs in America are cooked and served from pushcarts located outside sporting events and popular attractions. If you are a friendly entrepreneur who genuinely enjoys chatting with strangers and doesn't mind standing on your feet for hours at a time, an inexpensive way to start your own business is with a pushcart. With zero overhead and relatively inexpensive equipment costs, you can get your business up and running for about $10,000.
Things You'll Need
Liability insurance
Food permit
Inspection
Conduct market research to determine what type of pushcart business would bode well in your area. Identify a need by hitting the streets at potential cart locations such as ballparks, flea markets, plazas and malls and quizzing passersby about their favorite foods. Popular pushcart businesses serve hot dogs, ice cream, pizza and other items. Scout out other vendors in your area to observe their methods and customer traffic.
Contact your county health department to learn the mobile vending regulations for your area and to get connected with a health inspector. Depending on your county, you may be required to obtain a permit for each location that you operate from. In addition, you may not be able to operate your cart within a certain distance from schools, restaurants and public parks.
Schedule a test date with your health department for your food handler's permit.
Select a cart that has enough storage space to house your condiments and napkins, yet is small enough to fit in your truck or trailer. If you intend to move around, you will want a cart with fixtures and compartments that can be taken down and set up quickly and easily. Before you buy a cart, contact your health inspector with the specifications to verify that the cart meets county requirements.
Locate food and beverage suppliers. Purchase condiments, a uniform, cleaning supplies, storage containers, coolers, napkins and a fire extinguisher and trash receptacle. During those first few days, waste is to be expected. Once you've been in business for a few weeks, you can adjust your purchasing volume as needed. In the meantime, purchase more rather than less. You can always give away any excess as samples to reel customers in.
Select a catchy name for your business and register it. Purchase liability insurance, schedule an inspection with your health department and apply for your vending permit.