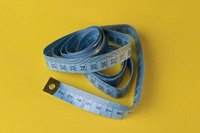 A dress form, a bodice-shaped mannequin, is a handy tool for home or commercial tailoring. This standard instrument provides a firm shape while putting together a dress. In a few short steps, you can put together a wire dress form. Once you have constructed the essentials of the dress form, you can also decorate it to give it a more attractive aesthetic.
Things You'll Need
Chicken wire
Measuring tape
Shape chicken wire to the bust size. If necessary, use measuring tape to ensure that the dimensions are accurate.
Bundle the wire together in tubes about the width of the hip and bust specifications. With this bundled wire, you can pin the chicken wire to measured dimensions.
Hook the ends of the tubed wire together. If the wire is still loose, use bobby pins to fasten the tubed wire.
Situate the chicken wire mold on a standard wooden stand.
Cover the exposed wire with knit material or paper mache.
Adjust the size of the bust by meshing the wire when and where necessary.