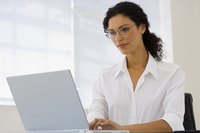 An effective business proposal or letter is your chance to create an important professional connection. Whether you're proposing a new partnership, asking for project funding or selling your products or services, an engaging, well-researched proposal will enhance your credibility and increase the odds that your project will be regarded favorably.
Outline your proposal. Include text references and quotes to demonstrate your mastery of the proposed project or idea. Research the customer or company you are targeting with the proposal. Think of creative ways to position your proposal in a logical, cost-effective manner, thinking of the reader.
Note the full citations of your references, including the author(s), the title of the article, the name of the journal or book, the volume and page numbers (if relevant), the year or date published, and, if you obtained the info from a website, the name of the website and the date accessed. You will list this reference information at the end of the proposal.
Format your proposal/letter like a memorandum. Include the date at the top of the page. Indicate to whom the memo is addressed, who is writing the proposal or letter, and the title of the proposed project. Include the full names of the businesses, and the full names and titles of individuals.
Under a centered Abstract or Project Summary heading, briefly summarize your action plan. Explain the main goals involved, and how the project will benefit the business of the reader. Include information that supports the proposed project.
Under a centered Introduction heading, write one paragraph stating why your company is ideally qualified to implement this project and how you would work with the business you are soliciting. Include the qualifications of your key personnel, and reference any successful projects you've completed that support your proposal.
Write the body of your proposal, including appropriate heading titles to break up the text and organize your ideas. Cover your proposal's benefits in detail, an implementation strategy, a timeline, estimated cost, and any potential roadblocks or concerns. Touch on trends and growth in the industry that support your proposal's premise. Include technical details, a management strategy and staffing plans. End on a positive note, suggesting a future date when you can meet or discuss the plan over the phone.
On a separate page, include a Reference heading, and list the citations of your proposal references alphabetically by author.
One example of an APA style citation is: Lname, FName. (year). Title article. Journal (italics) volume, pages. Retrieved date, source.
"Retrieved" refers to information obtained from the Internet. Include the date it was retrieved and the name of the website.