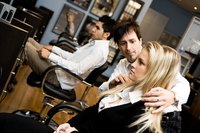 A salon supply business is geared and marketed toward salon owners and salon professionals, but is often open to the general public interested in purchasing make-up, hair, nail and other beauty supply products and equipment. Because of the business-to-business focus of a salon supply company, it will differ from the typical beauty supply store by its offering both professional salon equipment and salon products in bulk sizes.
Things You'll Need
Storefront
Sales counter
Display cases
Cash register
Computer
Printer
Sales tickets
Price tags
Dollies
Carts
Develop a business plan. Decide what types of salon products will be stocked, such as luxury products, ethnic focused products, etc. The business plan will identify core salon brands and suppliers for the niche products, potential salon shop clients and salon supply competitors. This is also the step in which start-up financial costs will be calculated.
Finance the business with savings, by securing a partner or by obtaining a business loan. The U.S. Small Business Administration Guaranteed Loan Programs are financing resources to consider for this type of business, but require a significant amount of start-up inventory.
Secure a salon supply storefront in a location that is commercially zoned and has good foot traffic. Also, establish an Internet website for the salon supply business. Depending on the financial resources available, consider starting the business solely as an Internet-based salon supply business.
Obtain hair and make-up inventory from distributors and suppliers. Send requests for salon supply catalogs and brochures to learn about the various products and equipments available in this industry. For instance, ShenZhen GSD Tech Co., Ltd. is an importer of beauty equipment and Fashioner Beauty Co, Ltd. is a nail product supplier. Drop shipping is when a retailer obtains an order and pays its supplier to ship a product directly to the retailer's customer. This may be a service provided by some salon supply product and equipment distributors. Check out the ProductSourcing.com website to find salon product-related suppliers that drop ship.
Market the salon supply business by advertising in salon retailer's publications. Create a catalog that features and lists main salon supply inventory for customers. Host in-store salon supply shows and give workshops to salon owners on industry innovations and other operational matters.