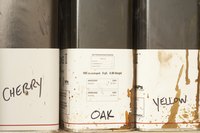 Unless you use your boat only on rare occasions and keep it constantly covered to protect it from the weather, it will require upkeep and maintenance. Water can damage wood and cause it to swell. A boat that is exposed to salt water is even more vulnerable to wood damage. Before refinishing the wood, it is important to know what kind of wood was used to make the seats. Some woods are softer than others and require additional protection. You must also decide if you want to paint or stain your seats.
Things You'll Need
Hose
Wood filler
Palm sander
Sandpaper
Wood primer
Paint brush
Paint
Wood stain
Rags
Polyurethane finish
Preparing
Remove the wooden seats from your boat. Hose them down with a garden hose and allow them to dry.
Inspect the seats for damage. Fill in any missing parts with a wood filler. Allow the wood filler to dry.
Sand your chairs with a palm sander and medium-grain sandpaper in the 80- to 100-grit range. Remove any existing paint entirely with the sander.
Hose off your chairs and allow them to dry again.
Painting
Apply a wood primer to your chairs, with a paint brush. Allow the seats to dry.
Apply several coats of paint to your seats, allowing the recommended drying time between each coat. Allow the seats to dry completely.
Apply a coat of polyurethane wood finish with a paint brush.
Apply a second coat of polyurethane after the first one has dried.
Staining
Test-stain a small part of the seat to make sure that you like the color.
Apply a coat of stain to the entire seat, with a paint brush. Wipe off any excess stain immediately with a rag.
Apply additional coats of stain until you are satisfied with the color. The more times you apply stain, the darker the color will become. Allow the stain to dry completely.
Apply at least one coat of polyurethane finish, with a paint brush.