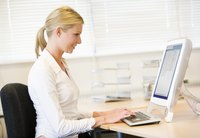 Businesses create invoices to bill customers who purchase goods or services on credit. In general, invoices contain information about the sale such as the item or service, quantity, rate or price, and any adjustments such as sales tax or discounts. QuickBooks provides a variety of default invoice templates you use to suit individual business needs.
Things You'll Need
QuickBooks Pro, Premier or Enterprise
Customer billing information
Internet access (optional)
Choose Template
View available default templates in the Templates window. Click "Lists" on the QuickBooks main menu, then select "Templates." Scroll through the list and look for templates with an "Invoice" type.
Preview templates by clicking to select the template and then press the "Open Form" button to view.
Choose the invoice template that most closely matches your requirements and open the form.
Enter Billing Information
Click the "Customer:Job" drop-down menu and select your customer from the list. If this is a new customer, click the "Add New" option at the bottom of the list and enter customer information.
Change invoice default entries. The invoice date, due date and ship date will default to the current day, so click on the calendar icon next to the dates to select another date if necessary. QuickBooks transfers information from the customer account to fill in the default billing and shipping address but you can override this by typing in different information.
Enter information for billing items or services. After selecting the item from the drop-down menu, QuickBooks transfers information from the item inventory records and fills in the description and price. QuickBooks also calculates the amount based on the quantities you enter.
Add a message to your customer. Click the drop-down menu to display a standard message, such as "Thank you for shopping with us," or click the "Add New" option to create a custom message for your customer.
Enter Footer Information, Save and Print
Apply any credits or discounts due by clicking the "Apply Credits" button and entering credit or discount information.
Add a memo for your records. Adding a memo can help you recall information later. This field will not appear on the printed invoice.
Preview and save the invoice for printing. Preview the invoice and make sure it is correct by clicking the "Print Preview" button at the top right of invoice screen. Save options include either "Save & New" to save the current invoice and create another invoice, or "Save & Close" to exit the application.
Print customer invoices. Click the "Print" icon from the Invoice main menu. To print a single invoice, click "Print" and to print multiple invoices, click "Print Batch" and place a check mark next to the appropriate invoices.