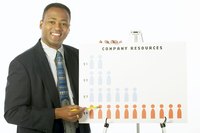 People are visual. Of all our senses, sight is one that demands constant and active stimulation. It's important when doing a presentation, especially in business, that you bring more to your presentations. While software like PowerPoint has been great in creating high-tech presentations, often you can add to these presentations a unique display board, which takes the placid eye from an overhead screen to a live presenter, armed with a unique display board to bring home his/her message.
Opt for a display size that's unexpected. We're used to seeing display boards in the conventional square or modest rectangle. Use a large, exaggerated display board either horizontally or vertically to create immediate interest in the display. Consider using two or more panels to bring organization and flow to the display board.
Use piano-type hinges if warranted for a heavy wooden display board or other panel fasteners as needed for foam core or even poster board if using panels. Secure construction is important when using panels for your display. You might consider using a modified room divider as a base for a very large display.
Add battery powered mini lights as accents to laterally bring your display to life. Very slender rods of luminescent lights are available from a floral design wholesaler. These are especially effective if light sources can be controlled because they laminate best in low light. Check online for resources.
Evaluate using other light sources on your board in soft, inviting colors or electrifying neons, depending on the board subject matter, if appropriate. Affix any lights to your display and double-check that they are fully battery or solar powered. Opt to use a single "spotlight" affixed to your display board to accentuate an item of particular significance on display, or as an additional design element for the board itself.
Aim for visual impact using images. Whatever your display board's purpose, you can add a lot of personality and relevance to it by using images. Images can relate what might ordinarily be a ho-hum subject matter on a personal level with the viewer if they reinforce the message.
Select pictures from magazines, especially home-and-garden, fashion or trade-specialty magazines, that have images you can cut out and use on a display board. Do a trial-fit of any images that may be used along with the lights and the actual display items to determine if the final spacing and layout will be aesthetically pleasing before permanently affixing them.
Consider packing and other portability needs of your display board. You may need to purchase special hardcover portfolios from an art store if the display board will undergo frequent air or other travel that might affect the quality of its look.