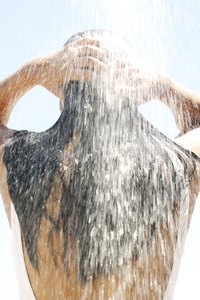 There are many purported herbal and holistic ways to help your hair grow, but the fact is that most of them have either not been tested or have shown no benefit. Almond oil is high in protein, which your hair needs to grow, and massaging your scalp to distribute the oil will stimulate blood flow and provide more oxygen to follicles. These factors might be beneficial to your hair, but the evidence currently is lacking.
Things You'll Need
Wash your hair using lukewarm water. Use a mild, gentle, herbal shampoo. Rub your scalp thoroughly to remove any dirt and grime that has built up over the course of the day. Rinse your hair completely.
Rub the almond oil into your scalp. Use your fingertips, not your fingernails, and be careful not to scratch your scalp. Rub the oil in circular motions and use firm pressure to work the oil into your skin.
Leave the almond oil on your scalp for at least 45 minutes. If you like, you can leave it on overnight, but some people experience skin irritation at this type of prolonged exposure to oil.
Rinse your hair with cold water. This will further stimulate your hair follicles. Make sure that all of the oil is out of your hair.