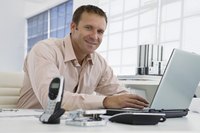 Companies typically use email registration forms to allow consumers to sign up for email newsletters, special offers and other electronic mailings. If you want to send emails to people interested in your products and services, an email registration form lets you add new subscribers to your list and capture the information you need about them at the same time.
Create a page on your website where existing and potential customers can sign up for your email communications. Make it easy to find the form from the home page of your website. You want to make it as simple as possible for people to register to receive emails from you.
Build the registration form using HTML or some other means. Of course, you will need to ask for the registrant's email address. However, also consider asking for information that will help you more effectively market to that subscriber. For example, additional fields might include their name, address and how often they would like to receive your messages.
Use your email registration form to ask subscribers what type of information they would like to receive from you. You could list newsletters, promotional emails, exclusive educational tips or any other type of mailing you can offer. When you send emails to the people who subscribe using your new registration form, you can also provide them with a link to a "Preferences" page where they can manage these different subscription options. However, remember that according to the CAN-SPAM (Controlling the Assault of Non-Solicited Pornography and Marketing) Act of 2003, you must provide your subscribers with a way to unsubscribe from all your marketing messages, and you must honor an unsubscribe request within 10 business days of receiving it.
Set up your registration form to forward new subscriber information to the appropriate destination. For example, if you use an email marketing service provider, code your registration form so that it sends your new subscriber data directly to the email lists managed by your service provider. You could also send the data to a database that you query on some frequent basis for new records. For a simple solution, code your registration form to send you an email notification containing each new subscriber's data and manually add it to your email list.