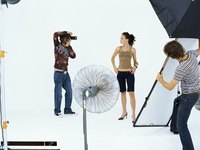 Models don't become "models" overnight. They start their careers at a relatively early age and learn how to pose and work the camera over time. They learn how to feel comfortable. In order to do the same, you will need to get to know your photographer, dress in something you like and relax.
Choose an outfit you feel comfortable in. The key to looking comfortable in front of a camera is by staying true to yourself. If you wear jeans and T-shirts every day, you'll probably feel funny in stilettos and a feather boa, unless you feel like being outrageous that day. Have fun with the photo shoot. If you feel comfortable hiding behind a pair of big Elton John-esque sunglasses and a pink wig, go for it. Sometimes, it's better to take on the persona of a star to give yourself an extra boost of confidence. You are the center of attention---be glamorous.
Practice. Stand in front of a mirror with the outfits you chose and try out different poses. Figure out which side is your best and which poses work for your body. Knowing how you look beforehand will make you feel more comfortable when you're in front of a real camera.
Work with the right photographer. If you can, work with a friend or with someone you know. You'll feel much more at ease in front of a camera if the person behind it is cheerful and encouraging. Professional photographers often make small talk with their subjects to help them relax. Don't be afraid to start a conversation. Famed celebrity photographer Annie Leibovitz is known for connecting with her subjects. Find out if your photographer is shooting you for a specific reason---she might be shooting your band because she's really into music. If so, talk music with her. This can help set your mind more at ease and help make the environment more friendly.
Offer the photographer some of your ideas, either poses or settings. If you feel more comfortable sitting on your living room couch, suggest this to him. Bring photos along the lines of what you'd like to see.
Visualize during the photo shoot. Think about something funny you heard in a movie. Imagine yourself on a tropical beach. Pretend you're a supermodel. Do whatever you have to do to make sure you're not stressed when a camera is in your face.