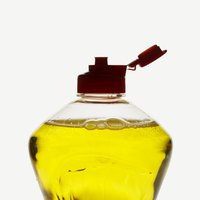 Surgical stainless steel is used to make many kinds of jewelry, including the jewelry used in body piercings. While the steel is called stainless, contact with certain materials may leave a stain. These stains can be difficult to remove, and the jewelry needs to be sterilized afterward in order to be safe to use. Household preparations such as soap and baking powder or a vinegar soak may work for smaller stains; commercial surgical steel cleaners can be used for tougher problems.
Make a paste of liquid dishwashing soap and baking soda. Apply this paste to the jewelry and allow it to sit. Remove the paste and check to see if the stains have lifted.
Soak stained stainless steel jewelry in distilled white vinegar for 15 minutes. Rinse carefully and pat dry. This may be repeated; it can take several rounds to remove stains.
Apply a commercial stainless steel cleaner, such as Barkeeper's Friend. Follow the manufacturer's instructions to clean the stainless steel.
Rinse and sterilize the jewelry before use. For body jewelry, you can take the piece to your piercer or doctor and have it sterilized in an autoclave sterilizer after washing.