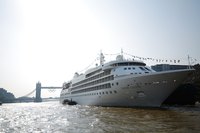 Staying in touch with passengers and staff members aboard a cruise ship is extremely important for family and friends, especially when an emergency occurs. You can reach people through several dependable ways. Major cruise lines offer the latest technology to allow anyone on shore to contact a passenger or crew member with ease.
Things You'll Need
Name of ship
Date of travel
Passenger or crew member´s itinerary
Communication device
Telephone
Get all information from the person traveling. That includes the name of the ship, the cruise line, dates of travel, the itinerary and phone numbers. Passengers setting sail will have direct-dial telephones in their cabins, and the number is given to them before departing with their documents.
Resolve the misplaced direct-dial telephone number by contacting the cruise line's toll-free customer service number. Most ships list their contact numbers in the cruise brochure and on the cruise line's website.
Reduce your expenses of higher phone bills by purchasing a prepaid international phone card. This allows you to maintain active communication with someone aboard.
Internet
Access to the web and personal email enables communication within the Internet cafes by public computers available at an added fee.
Write an email and send it to the passenger's normal email address. Email can be picked up on any computer.
Make sure you have the correct email address. Cruise lines sometimes assign guests with a personal and unique email address with their cruise documents.
Cell phone
Call your provider and see how much they charge for usage with your cell phone when calling someone aboard a ship or to the receiver's cell phone at different international destinations.
Prepare to upgrade your service plan and obtain international calling and text messaging abilities for the cell phone.
Purchase a prepaid disposible cell phone or prepaid card.
Telex
Ships fitted with Inmarsat allow passengers and crew to received messages via telex. Telex messages are less expensive and usually arrive within minutes of transmission.
Know where the ship is located as each Inmarsat telex has a specific ocean region access code. The Eastern Atlantic Ocean Region is 871; Pacific Ocean Region 872; Indian Ocean Region 873; the Western Atlantic Ocean Region 874
Telex messages can be sent from shore to ship by reviewing the procedures from the cruise line's brochure or by contacting Inmarsat directly.