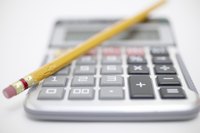 If you use your vehicle for business or other tax-deductible travel, your mileage can add up to a major tax deduction at year's end. Be sure you use the correct mileage allowance figures. The IRS allows one rate for business use. The rates for other driving, such as charity work or medical-related travel, are different. In addition, the allowable deduction is adjusted on an annual basis. For example, the business rate was 55 cents per mile in 2009 but was reduced to 50 cents in 2010.
Things You'll Need
Log book
Reimbursement records
IRS Schedule C
Calculator
Keep a daily log of business or other deductible miles driven starting Jan. 1. Write down the date and the starting and ending odometer (mileage) reading. Also make a note of the reason(s) for each trip.
Subtract the starting odometer reading from the ending reading and enter it in your log. At year's end, add up the entries to find the total deductible miles driven. If your driving falls into more than one category (business and charity work, for example) keep them separate.
Subtract any mileage reimbursement you have received. For example, if your employer reimburses you 30 cents per mile, in 2010 you would subtract 30 cents from the allowance of 50 cents per mile, leaving 20 cents per mile that you may deduct from your taxes.
Multiply the total mileage by the allowance per mile. For example, if you had a total of 2,500 miles driven for business purposes and no employer reimbursement, you would multiply 50 cents (the 2010 rate) by 2,500 for a total deduction of $1,250.
Check with your tax preparer (or the IRS) to find out how to claim your mileage. In general, medical-related mileage goes on an itemized 1040-A. Business mileage is claimed using IRS Schedule C. You can call the IRS toll free at 1-800-829-3676 if you have questions.