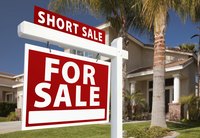 Mortgage lenders view short sales in much the same way they view foreclosures: serious defaults that caused you to lose your home. In addition to waiting for a minimum amount of years before qualifying for another home loan, you must rebuild your credit and acquire enough money to comfortably afford a new housing payment. You can take several steps to improve your credit and finances during the lender-required waiting period.
Short Sales Affect Financing
A short sale negatively impacts your ability to purchase another home in two main ways: by diminishing your credit and by triggering a seasoning period. Credit scores fall as a result of the missed monthly payments that lead up to most short sales. The actual short sale is then reported to the three major credit agencies, further hurting your score. A short sale remains on your credit for seven years and may lower your score by 85 to 200 points, depending on your credit history. To ensure that your credit recuperates and your former financial troubles are over, lenders require you to wait a certain number of years after the short sale, known as a seasoning period.
Determine the Damage
Determine credit damage by pulling your credit report within two months of the short sale closing, enough time for the lender to report the event. Continue to monitor your credit regularly -- every four months -- to view progress and ensure your report's accuracy. Find out whether the short-sale lender forgave the balance or whether you have a pending collection for the deficiency -- the difference between the mortgage balance owed and the short-sale proceeds. A collection may mean you have to pay the lender or third-party collector in installments or a lump sum to settle the remaining debt. Also, make your tax preparer aware of the short sale. You may owe taxes on any forgiven mortgage indebtedness, as the Internal Revenue Service counts it as income in some cases.
Seasoning Period Requirements
Lenders may require you to wait two to four years before you apply for a new home loan, depending on the circumstances surrounding your short sale and the loan type. For example, as of the time of publication, Fannie Mae conventional loans required a four-year waiting period after most short sales. Borrowers with extenuating circumstances and substantial down payments wait only two years. Fannie Mae defines extenuating circumstances as nonrecurring events beyond borrower control. For example, job loss, divorce or serious illness may qualify. You must substantiate extenuating circumstances with a letter of explanation and supporting documents.
More Down Payment Equals Less Seasoning
A higher down payment at the time of a new purchase can make it easier to qualify for a home loan. Lenders may require a shorter waiting period if you put at least 10 percent down. For example, Fannie Mae and Freddie Mac conventional loans may allow waiting periods of four years with 10 percent to 19.99 percent down, but up to seven years if a borrower has less than 10 percent down. To implement the two-year waiting period, a borrower needs at least 20 percent down in addition to extenuating circumstances.