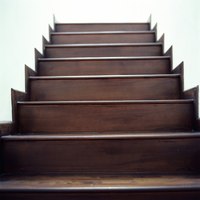 Hardwood floors are beautiful, but they can receive a lot of wear and tear from your dog. Scratches are a common occurrence and urine can also cause damage to your flooring. Luckily, there are several ways to protect your hardwood floors and stairs from dog abuse.
Keep your dog's nails trimmed. Shorter nails are much less likely to damage wood flooring. The dog may need to grip with its claws as it goes up the stairs, especially if it is slippery. Long claws will do more damage while short, blunt claws won't dig into the flooring as much.
Clean up urine mess as soon as possible to avoid discoloration. Urine can stain hardwood, so it is important not to let the urine sit for a long period of time.
Cover your dog's claws with nail caps, such as Soft Paws. These protective covers adhere to the nail and make your dog's nails more blunt. According to softpaws.net, Soft Paws will reduce the damage your dog's can do to hardwood floors and other surfaces, and are easy to apply.
Cover your hardwood stairs with a protective tread. Special rugs or other coverings can be attached to the stairs using carpet tape. Not only will these treads protect the flooring underneath, but it will also make your stairs safer and less slippery for your dog to maneuver. If stairs are too difficult to climb, some dogs may paw at them in frustration if they can't make it up. A stair tread will reduce potential damage while encouraging your dog to climb them more easily.
Sand and refinish the floors. If you notice that your hardwood stairs have been damaged by your dog, keep in mind that one of the benefits of hardwood floors is that they can be refinished.