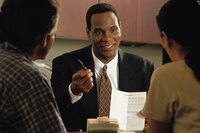 For many families, the cost of buying a stick-built home is too high to be affordable. For others, financing is a problem because of past credit issues. Because of these problems, financing a used mobile home has become a valid option. To finance a used single wide trailer, you can look into two distinct methods of purchase. There are both government and private methods to use when financing a used single wide mobile home.
FHA Loan
Look for an FHA (Federal Housing Authority) approved lender in your area. Use these lenders to apply for a HUD (Housing and Urban Development) home loan.
Meet with the lender to discuss your specific situation. Go over the guidelines of a HUD loan and FHA home qualification requirements. Go to the HUD and FHA websites to research these guidelines.
Look for a used single wide trailer once you are pre-approved for financing. FHA and HUD guidelines stipulate that the housing must be on a permanent foundation and that you are purchasing both the home and the land it sits upon. Trailers in trailer parks are not eligible for either program.
Remember the FHA guidelines when looking to finance a used single wide trailer. The mobile home must be built after 1976, have 400 square feet living space minimum, be placed upon a permanent foundation, be subject to property taxes as real estate, be above the 100-year flood plane for the area, and meet federal construction and safety standards for mobile homes. The loan cannot be for more than 30 years.
Return to the lender when you find a seller or sellers willing to sell a trailer and land. If the trailer and land are separate, you must obtain the loan as if the trailer is on the property and have it moved there. Fill out the application and file the forms required by the lender. Sign the paperwork when the loan is approved and move into the trailer.
Rent to Own
Look for a seller willing to finance a used single wide trailer by letting you purchase the mobile home through a rent-to-own option. These can be found through many mobile home dealers who also own trailer parks that have empty trailers in them. Private individuals may also have mobile home rentals that they may consider selling to you.
Ask about options, requirements and terms for each seller you find. Trailer park owners may allow you to purchase the used single wide trailer on monthly payments along with lot rental; these are usually for three years. Understand that you may not be able to move the trailer from the park until it is paid for.
Look for sellers who own mobile homes on private land. Ask these owners if you can use part of the rent towards the purchase of the mobile home. The rent will be higher to cover the cost. Agree to an amount of time, usually three years, where all accumulated monies will be used as a down payment when going for a home loan. Use the down payment and time in the home as equity leverage for your home loan. This will give you collateral for the mortgage.
Look for sellers who are willing to do a land contract. These are sellers who carry the mortgage through the complete term of the loan. Make payments as you would a normal home loan. Remember that with this option you will also be paying property taxes.