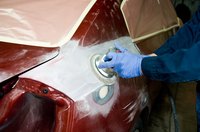 If you want to sell your lettered commercial vehicle, you can get a better price if you remove the lettering before you sell or trade it in. Often you can buy a vehicle with lettering for less than a clean truck or van. Whether you're updating your business logo, or buying or selling a vehicle you can save money by removing the lettering instead of hiring a detail or sign shop to make the vehicle a blank canvas once again.
Things You'll Need
Heat gun or hair dryer
Lil Chizler plastic scraper or craft sticks
Citrus based cleaner
Choose a location in full sun with access to electricity. Working on a clean vehicle in warm temperatures is the ideal situation for easily removing vinyl lettering and graphics. Removing vehicle lettering in cold temperatures is possible, but will take longer. The vinyl gets brittle in the cold and may break into smaller pieces to remove. If the lettering or graphics have been on the vehicle for many years and exposed to the sun and weather, the job will take more time.
Start at an inconspicuous place on the vehicle to experiment with technique. Warm the vinyl lettering at a corner with the heat gun or hair dryer. Start with low heat on the heat gun and high heat on the hair dryer. Be careful as you lift the edge of the vinyl with the Lil Chizler or craft stick. When there is enough vinyl lifted to grab with your fingers, remove the heat and start to slowly peel the vinyl from the vehicle. Roll the vinyl and grab close to the surface. Try to keep the vinyl from breaking, so you won't have to start the peel again.
When removing large graphics, warm the leading edge of the vehicle graphics to soften the adhesive and slowly pull and roll the vinyl away from the vehicle. If it becomes difficult to pull, warm the resistant area and resume pulling.
After the vehicle lettering is removed, there may be small pieces stuck to the surface. Warm these again and scrape them off. Use the strongest citrus-based cleaner you can get at the hardware store. Following manufacturer's directions, clean the vehicle of adhesive residue. Using a clean rag, put the cleaner on the rag and rub the adhesive away. Turn the rag often to avoid spreading the adhesive. Rinse with clean water.
If the vinyl lettering has been on the vehicle for many years, or the vehicle is a dark color, there may be a tan line or ghost remaining on the surface. Unless there is a great color discrepancy, this can usually be buffed out.