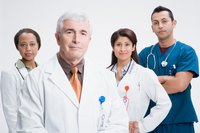 Becoming a Blue Cross Blue Shield (BCBS) provider takes some organizational skill and resourcefulness. BCBS health plans insure over 100 million Americans in the U.S. and living abroad (Blue Cross Blue Shield Foundation, 2010) so it is worthwhile to invest the time necessary to become a network provider and be available to care for the BCBS members who may be already in and around your practice. Provider credentialing is the process by which an insurance company reviews a provider's license, training, certifications and education, usually at the provider's request to join the network and make himself and his practice available to BCBS members.
Things You'll Need
Letter of interest
Updated cum vitae or résumé
Current copies of all certifications and licenses for each state and specialty
Updated U.S. Drug Enforcement Administration registration number for prescription of controlled substances
Updated hospital affiliation information
Updated copies of malpractice insurance(s) and malpractice claims information
Updated tax information for your practice
Updated National Provider Identifier information and number
Assemble your provider network application materials
Update your curriculum m vitae or résumé. Most provider network plans require a current copy of this important document in addition to completing the provider application form.
Make copies of all state licenses, diplomas, certificates of training and board certifications. You will need to include a copy of each in your application packet. Sometimes school transcripts are also required but not often. Check the application instructions carefully to make sure you include these as well if they are requested.
Make copies of your U.S. Drug Enforcement Administration (DEA) registration. Visit the U.S. Department of Justice DEA website (see Resources link below) if you need to apply for a new registration or update/renew an older one.
Compile a current listing of basic practice information (address, administration contacts) for each hospital or facility with which you are affiliated.
Make copies of your current malpractice coverage including renewal dates and policy coverage limits. You should also compile a summation of malpractice suits or claims (if any) brought against you in the past 10 years. Most plans will ask you to attest to these occurrences and ask for a summary at minimum. Once you become a contracted provider with a BCBS plan, your contract may also stipulate that you notify the plan as soon as possible when/if any new claims are filed.
Complete an Internal Revenue Service (IRS) Form W9 (link in Resources below) with your current tax identification information and number. You can use your social security number if you are a sole proprietor in your practice (IRS, 2010). Otherwise, visit the IRS website (link in References below) to apply for a tax identification number specific to your business structure (corporation, for example).
Confirm that your National Provider Identifier (NPI) number accurately reflects your practice type and licensure. You can find this information or apply for a new NPI number at the U.S. Health and Human Services website (link in Resources below).
Assemble all application packet materials together.
Apply to the specific BCBS provider network in your state of license and practice
Go to the Blue Cross Blue Shield website (link in References below) of state plans to find the application information for your state(s) of practice. Each U.S. state has its own locally operated BCBS office for managing its provider networks, administering member services and paying claims. Some states have more than one BCBS plan and operations center. You must file an application in each state of practice and to each plan for consideration and inclusion to the provider network.
Click on the link for providers to inquire about joining the network. This link is usually on the homepage or one click away on a provider-specific page that you can navigate to from this website entry point.
Follow the instructions for applying to that specific BCBS provider network. This generally includes sending in a letter of interest to a specific person or department along with a network application and your application packet assembled in Section 1. The network application is usually provided as download material that you can print out and complete. It is similar in format and content to a job application.
Write your interest letter, addressing it to the parties or department designated on the BCBS specific plan website. Sometimes this information is included on the network application. Sometimes there is one provider network contact for multiple BCBS plans. In this case, you can include one application packet and letter that clearly identifies to which plans you are applying.
Send in the entire application packet with all of your attached materials (from Section 1) to the address identified in the BCBS application or on the plan-specific website.