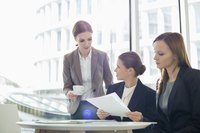 Just like people, each business has its own unique story -- the tale of how it went from an idea to a reality. You might not consider your company's history something that your customers and potential customers would be interested in, but when written well, the account of how your company came into being can be an effective marketing tool on your website or in printed materials.
Things You'll Need
Old business records
Old ads and marketing campaigns
Transcripts of interviews with employees
Gather all of the information you can. Go through old ledgers and paperwork, interview long-term employees and customers, and review copies of old ads and marketing campaigns for anything that can spark memories and offer insight. Use this research for material for the history, incorporating quotes and excerpts to bring the story to life.
Put the history into a chronological timeline that highlights major events, achievements and milestones. Use this as the outline for the story. The timeline itself also can be used in a media kit.
Start the history with the beginning of the company and include what inspired the founders, why that particular business focus was chosen, and the struggles that were faced and the obstacles overcome. Insert personal anecdotes from the interviews and memorable achievements, as well as the vision for the future and where the business is headed.
Before publishing your history in any form, have some people outside of your company review it as if they were potential investors or clients to see if what you have written makes them interested in the company. If it fails to do that, revamp it until it does.
Choose the format for your publication. It can range from a brochure that you hand out to potential and existing customers to a bound booklet that you use to mark special anniversaries or achievements. Don't forget to post it on your website.
Prepare versions of your company history of different lengths and have them readily available for publication. It will make fitting your business history into your future marketing plans a simpler task.