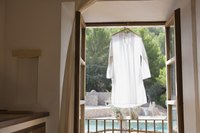 Leave a shirt in the dryer too long and the wrinkles actually set in, forcing you to start the entire de-wrinkling process over again. Let it sit unattended for any period of time and, again, it'll show creases. Drying a shirt---and having it emerge free of crinkles---doesn't have to be as complicated as it may seem. It should take only a couple of trial-and-error runs before you have the system figured out.
Place a couple of clean tennis balls or dryer balls inside the dryer with your shirt. Make sure the dryer isn't too full; this prevents clothes from circulating and allows wrinkles to set in.
Remove the shirt from the dryer while it's still just slightly damp. Grasp it by the shoulder seams and firmly shake it out.
Hang the shirt up immediately and use your hands to gently smooth out wrinkles. If a hanger is not available, lay the shirt flat, smooth any wrinkles out with your hands, then fold it neatly, smoothing it down as you go.