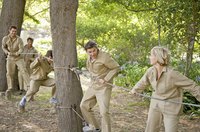 Boot camp is an intense, full-body workout that includes both cardio and strength training, using military-style exercises or obstacle courses. Indoor and outdoor camps are popping up around the nation, led by motivated instructors who have a knack for getting people off their butts. Instructors may work for a gym or on their own. If you are in excellent shape, thoroughly enjoy motivating others, and understand the importance of recordkeeping and time management, you can start your own outdoor boot camp.
Things You'll Need
CPR certification
Group instructor certification
Varied routine
Equipment
Get CPR-certified. Not only is this a prerequisite for obtaining a fitness certification, it's a smart safety precaution for your business.
Obtain a group fitness instruction certification from a nationally recognized certifying authority such as the American Council on Exercise or the Aerobics and Fitness Association of America.
Learn the fundamentals behind a boot camp exercise class. Generally, your outdoor boot camp class won't have the same equipment and tools as a traditional group class, which means that you will need to get creative when developing your routines. Attend a boot camp class, review tutorials online, or obtain boot camp certification from Adventure Boot Camp or another certifying authority.
Look for a location that allows you to offer a variety of muscle-training activities, such as wall squats, sprints, hill sprints and suicides. Public parks situated near busy residential neighborhoods, beaches and hiking trails are ideal locales. Study your terrain and the amenities to help you create a versatile routine.
Design a program that targets each muscle group, keeps the heart rate up, and includes a warm-up and cool-down phase. If you won't be situated near a gym, you'll need to design a program that includes strength training exercises that use the students' own weight, such as running, pushups, jumping jacks, planks, sit-ups, mountain climbers, kicks, punches, burpees, triceps pushups and squats. Use park benches for dips, walls for wall squats, and lined or marked floors (such as on a public tennis court) for sprints. Encourage unit cohesion by having participants do tug-of-wars or compete with one another by dragging sleds filled with sandbags across a field. Incorporate tires, jump ropes, cones and various materials to create obstacles and challenges.
Create waivers or release forms to eliminate liability concerns, and have each student sign a waiver. Contact your insurance provider to inquire about whether or not you should invest in liability insurance.
Design a website detailing class schedules, your location and a map, your experience and credentials, and pricing. Include a photo gallery of your course, equipment and your clients in action. Create a variety of packages for your four- or six-week training course that include two- or three-day per week options. Offer discounted rates for clients who sign up for extra classes or courses. Allow clients to try out your services by paying a discounted rate for a single session.