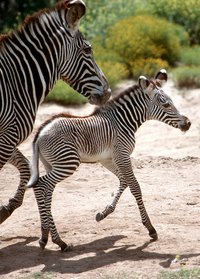 Located 30 minutes outside of San Diego near Escondido, the San Diego Wild Animal Park is a component of the San Diego Zoo; since 2011, it has been called the San Diego Zoo Safari Park (sdzsafaripark.org). It is the 1,800-acre home of a multitude of wild and endangered animals from around the world. Tickets provide basic admission to the park; you can sometimes find them for a discounted price. After you enter the park, you can purchase more activities for an additional fee.
Purchase multi-day discount tickets if you plan to visit the park more than once during a short trip. The 3-for-1 San Diego Multi-Pass offers unlimited admission to three parks, including the Safari Park, for a period of seven days. You can visit for a half-day and return a few days later. Furthermore, the pass includes unlimited admission to the San Diego Zoo and SeaWorld San Diego during the five-day period.
Inquire about park discounts from your employer. Some larger employers offer employee discounts to various parks and amusement venues.
Check with your discount club, such as AAA or Costco, which sometimes offer discounts to large entertainment parks through their website or directly from a local office or store.
Search local classified advertisements for individuals offering tickets at a reduced price. If you find a seller, follow safe practices to obtain the tickets. Never send money without receiving the product; meet in a public location, not a private home; and ensure that the tickets are valid before purchasing. You may find coupons in local newspapers for discounts to the park.
Search the Internet for reputable coupon and discount websites. Check the forums for coupon offerings. If you are a member of a reputable coupon, frugal shopping or discount site, look for discount coupon posts or check with fellow members for coupons. Alternatively, search Craigslist San Diego (sandiego.craigslist.org) for tickets for sale.
Bid on or buy tickets on eBay (ebay.com); tickets are sometimes available for an extremely low price.