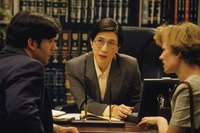 One of the options available to a homeowner who has a judicial foreclosure pending is to file what's known as a motion to dismiss. While this motion doesn't always prevent the foreclosure, it will almost certainly buy you extra time as you try to find a way to save your home.
Consult with an attorney. An attorney will know the specific procedures that relate to foreclosure in your state and locality. He will also be familiar with how to file court paperwork and which defenses to foreclosure may work in your case. If you are concerned about the cost of an attorney, local housing charities may provide free legal advice or representation.
Look on the website of your state's court system, where you will find forms that you may need, contact information and helpful information on how to proceed in your area.
Determine if you have grounds for a motion to dismiss. Can the bank produce the original mortgage note? If not, it may not be able to prove that it legally holds the loan. Did your lender engage in any illegal practices when the mortgage was signed, such as a violation of the Truth in Lending Act? Are the terms of your mortgage "unconscionable"? Did the bank follow correct procedure when serving you with the foreclosure paperwork? Does the court have jurisdiction over the case? This may be a matter of whether you want your case heard in state or federal court. Any of these factors might be grounds for your motion.
File the paperwork on your motion in a timely fashion. In most cases you will have 30 days or less to respond to a foreclosure filing.